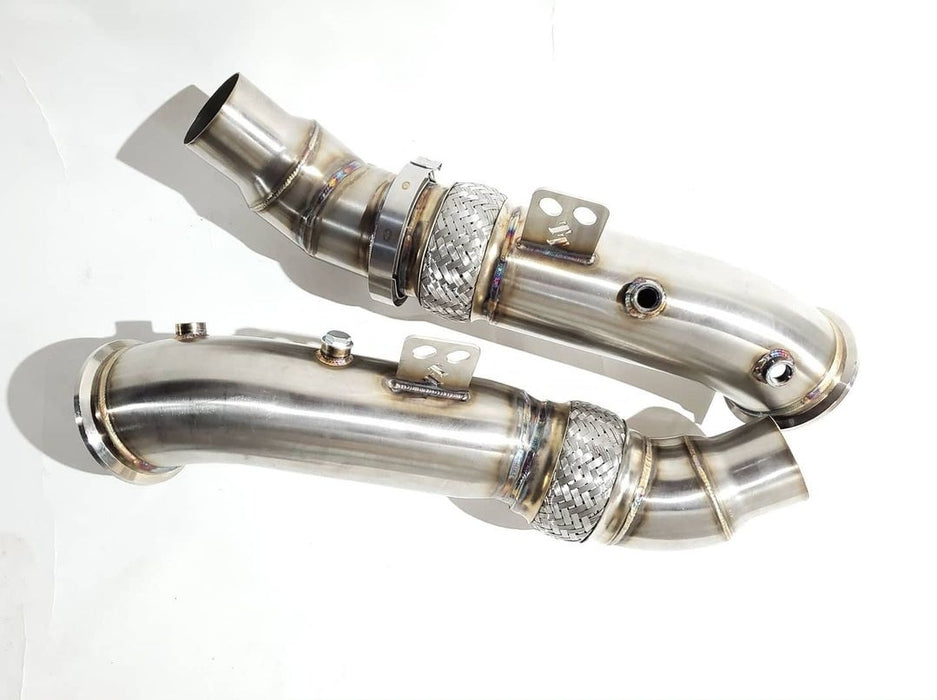 BMW B58 and A90/2020+ Toyota Supra B58 Stage 1/2 Modular Catless Downpipes
Sold out
Original price
$350.00
-
Original price
$510.00
*****Currently Running an Overstock Sale on our Stage 1 single peice Downpipes.  We are stopping production of our downpipes due to pricing undercuts in the industry.   For a short special time, get our Stage1 downpipe at discpunted rates. These are unfinished without our typical support tab on top*****
Our Stage 1 and Stage 2 Modular Catless downpipes 4.5″ full mandrel bent downpipe is the highest, smoothest flowing and highest performing on the market. Spool-up times are significantly improved. The gradual transition of our downpipe will allow exhaust to maintain its velocity without increasing back pressure.  As with anything we release our aim is to over-engineer and outperform the competition.
We use thicker gauge SS materials than most other manufacturers which allows us to increase our product durability.  We incorporate our custom downpipe support just like OEM for a much sturdier and OEM looking install which will help to also resist cracking or other fatigue. 
POWER INCREASE: up to 25-35whp depending on car and environment and tune.
STAGE 1 DOWNPIPE NOTES:
Stage 1 one piece downpipe is designed to be used with stock diameter catback or stock diameter aftermarket catback exhaust systems.
STAGE 2 DOWNPIPE NOTES:
Our Stage 2 Catless downpipe features a two piece design that will allow consumers to run our downpipe with stock catback exhaust size up to 4" diameter catback exhaust without needing to buy and/or modify an entire new downpipe.  We achieve this by allowing the lower section to be swapped out for a larger elbow to connect to the exhaust size of your choice up to 4" diameter.   Two piece design is via SS V-band connections for great fit and finish and easy install and removal.  The last Downpipe you need to buy!
 FEATURES:
Significantly Lower Back Pressure Means the Potential for More Power
Exhaust Gas Can More Easily Flow Across the Turbine Wheel
Throaty Exhaust Note Under Wide Open Throttle
304 Stainless Steel 4.5" Inlet Reduces to a 4" Flex Section, Maximizing Volume and Flow
Turbine Flange Offers a Smooth Transition from the Turbine Outlet
3.15" (80mm) Outlet Allows You to Run Either Stock or Aftermarket Catback Systems
Fully Stainless Steel Downpipe
Complete Bolt-on Means No Cutting – Bolts to the Factory Location
CATLESS DOWNPIPE NOTE:
Use of Catless downpipes are for off-road use and racing applications only.