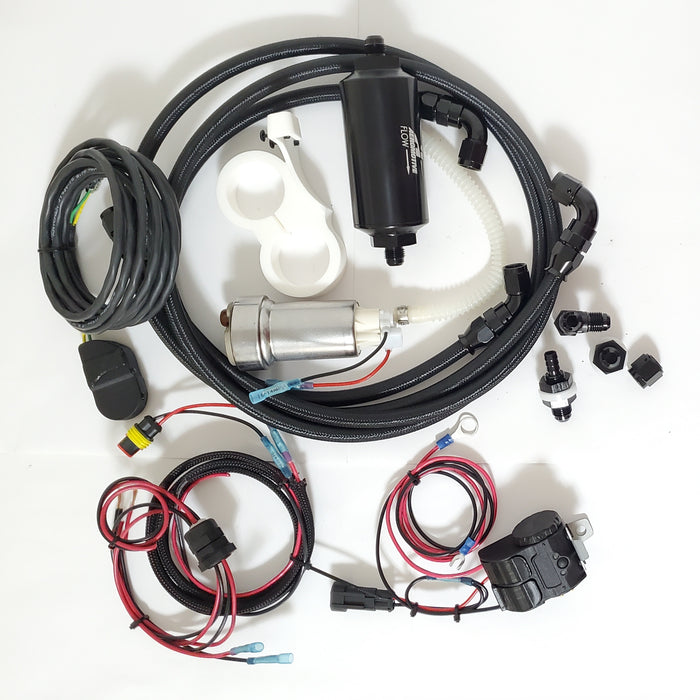 Twisted Tuning A90/A91/Z4 Canbus LPFP Fuel Upgrade
Sold out
Original price
$1,150.00
-
Original price
$2,000.00
Our Stage 1 and Stage 2 low pressure fuel pump system if able to supply all the fuel you will ever need for your MKV Supra and Z4. Whether you want 600-800whp on E99 or 1200-1500whp on E99, our fuel pump setup has you covered. 
And it is CANBUS controlled to boot.  No more having to worry about if and when your Hobbs switch will fail.  No more janky old school relays known to fail.  You will enjoy miles of trouble free aux fuel pump control.

Our Stage 1 (1000whp rated) pump offering will feature a single extra TI Automotive pump mounted externally to the bucket with the OEM bucketed pump still intact for normal and seamless vehicle operation. Our Stage 2 (1200+whp rated) system adds 2 external TI Automotive pumps in addition to keeping the OEM bucketed pump to reduce chances of fuel starvation. 
Both our Stage 1 and Stage 2 kits offer provisions for a return line if the use sees fit.  We also place the aux pump(s) on their own separate feed line to be able to move as much fuel as possible to the engine.

NOTE - Power Ratings above require a proper functioning Port injection system.  The OEM HPFP can not support those power levels alone. So to reach those power levels, ensure you have port injection installed.
NOTE - Modification of the OEM fuel pump top hat and bucket is required for the extra fuel lines and harness pass through and a small hole for a lock clip/pin.

NOTE - If adding a new OEM fuel pump assembly with the kit instead of getting the base kit and adding to your current OEM LPFP assembly, Please allow 2-4 weeks for it to be built.  We are at the mercy of the the OEM parts channel for this. So delays in acquisition of the new assembly can vary.  For this reason if you need it faster, we recommend adding to your current LPFP.